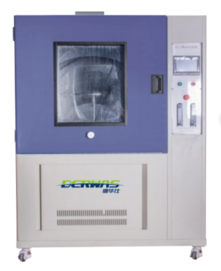 Sand and Dust Test Chamber Oven
Sand and Dust Test Chamber Oven is suitable for testing the sealing performance and reliability of products
1. The inner tank is made of stainless steel, and the outer shell is coated with cold-rolled sheet electrostatic spraying. Imported intelligent temperature controller is adopted.
2. Small programmable controller, each system has protection function.
3. Nominal wire diameter of metal screen: 50 μm
4. Nominal spacing between lines: 75 μm
5. Talc dosage: 2kg/m3~4kg/m3
6. Dust proof test for electrician, electronics, automobile, motorcycle and other products and parts.